Power quality monitor
Retrofittable remote monitoring of transformer and substation to increase renewable power distribution, prevent outages and increase asset lifetime.
Next steps
How to connect devices to the Withthegrid asset monitoring application →
Contact us for support
Request a quote
Request a demo
Tools
Download our free business value calculator to determine the potential benefits of your project
Device partner
Product description
Always the latest status of grid infrastructure and assets
Transformer and substation monitoring
The Lower voltage and Medium-voltage grid is rapidly changing due to the rise of solar energy, batteries, heat pumps, and electric vehicles. This requires real-time insights that existing SCADA systems cannot easily provide.
Power quality insights
Safe and high-quality electricity means that power quality specifications need to be met. Spikes or changes in power quality can severely damage equipment or prevent customers from using or feeding electricity back into the system.
Anomaly detection
Identifying faults in the low voltage grid and transformers take time. With real-time monitoring, this process can be sped up significantly. In addition to static thresholds, anomaly detection algorithms can provide additional insights and preliminary warnings with more precise fault locations.
Inspection reduction
The lack of technical personnel is affecting the speed of the energy transition. With real-time monitoring, physical inspection cycles can be reduced freeing up valuable time for other activities.
"The digital twin helps us support prosumers in delivering more renewable energy to the grid whilst at the same time increasing the efficiency of our own operations."
Hans Leenders, Asset manager Joulz
Software functionality
Deep Insights and control
Monitor an extensive range of metrics giving detailed insights into the load and performance of the connected assets. The modularity of the system allows for unlimited expansion to monitor any substation component.
Easily installed in the field
The device can be easily installed by mechanics and depending on regulation the power does not need to be switched off. The ability to work with current transformers or ragowski coils means that any situation is suitable to monitor.
Full flexibility to meet all situations
The base station can be extended with extension modules. Directly powered and connected via standard Modbus UTP cable. Up to 10 extension modules can be connected to 1 base unit.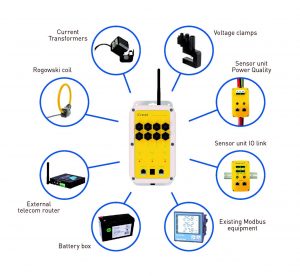 | | | |
| --- | --- | --- |
| Function | Base module | PQ expansion module |
| AC-Voltage | ✓ | |
| AC-Voltage Harmonics | ✓ | |
| THD Voltage | ✓ | |
| AC-Current | ✓ | ✓ |
| AC-Current harmonics | ✓ | ✓ |
| THD Current | ✓ | ✓ |
| Phase angle | ✓ | ✓ |
| Voltage phase angle | ✓ | |
| Power factor | ✓ | ✓ |
| Active power | ✓ | ✓ |
| Reactive power | ✓ | ✓ |
| Apparent power | ✓ | ✓ |
Device specifications
Product dimensions
255mm x 120mm x 110mm
Current monitoring
Curren clamps / Ragowski clois
Voltage monitoring
Voltage clamps
Expansion module
PQ expansion
Expansion module
IO temperature monitor PT100
Expansion module
IO expansion
Encryption
End-to-end encryption