Our vision: A renewable energy system for all.
Withthegrid is a Dutch technology company founded in 2016. It started from first-hand experience in managing and maintaining energy infrastructure. It became clear that in order to realize a renewable energy system, we needed energy infrastructure that can deal with renewable sources in a more efficient manner.
Our history so far
2016

The idea for Withthegrid is born whilst working at an energy infrastructure company (DSO)

2017

Withthegrid is founded and wins the first prize of the Intel Hackathon in Amsterdam. We obtain the first launching customers.

2018

First profitable year and enters District heating Infrastructure market with leak detection. We become part of the EU Climate-KIC accelerator programme

2019

Continued product development creates an asset monitoring platform suitable for any energy infrastructure type (electricity, biogas, district heating, water).

2020

Launch of Smart Substation monitoring solution to monitor grid congestion. We obtain our first Belgian customer.

2021

Obtains external investment from ROM Utrecht, Boundary Holding and industry veterans. We obtain customers in the Polish and Spanish market.

2022

Team grows to 18 people. Launches the Teleport Gateway to unlock flexibility for the energy grid. We obtain our first customer in Germany.
Our Culture
We enjoy our work and working together. We like having work discussions on the latest tech to use, customer use cases or what team members have been working on in their spare time. We pride ourselves on our hybrid office culture and having monthly company wide drinks or informal activity.
Our team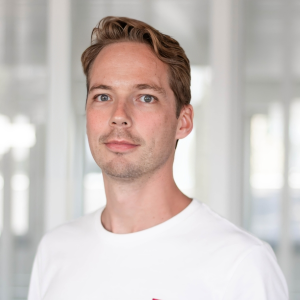 Rob Everhardt
Founder & Chief Technical Officer
Willem de Munnik
Chief Operating Officer
Jeroen de Bruijn
Co-founder & Lead Embedded Software
Steven Hulshof
Co-founder & Lead Hardware
Pieter Hogeveen
Head of Projects
Kateryna Zavorotna
Frontend Developer
Aurelien Arino
Frontend Developer
Nick de Kleijn
Lead Frontend Developer
Shohib Kabir
Business Development Manager
Simon Riedinger
Backend Developer
Gabriel Padureanu
Backend Developer
Filip Forro
Solutions Engineer & Product Owner Smart Substation
Yaroslav Dobzhansky
Backend Developer
Levi Rapaport
Solutions Engineer
Maarten de Leeuw
Solutions Engineer
Bart Jansen
Jr. Business Developer
Reinier Derks
Energy Science Intern
Chris IJsbrandy
Sr. Solutions Engineer
Join our team
We are always on the lookout for new team members! Do you want to work with the latest technology and address one of the largest challenges? Then apply to one of our open roles. If one of the roles does not fit and you think there's a great match then reach out by sending in your resume!
Our values
Astonishment
Our key value is based on astonishment. We believe it is important to be amazed at the things around us. It helps us appreciate things but also identify things that can be improved.
Excellence
We strive for excellence. In this process we know that there is no end goal just the continuous improvement of our work and processes.
Service
We help our customers shape a future sustainable energy system. We can only support them if our service and support is top notch!
Self-efficacy
Self-efficacy means that we are convinced that we can do something. It helps us learn and challenge our thinking and our beliefs. It makes us persistent, work harder and see all our work as challenges which can be overcome. Not just alone but in a team!
Contact info
✉️ info@withthegrid.com
☎️ +31 (0)30-2006861
📍 Dotslash Utrecht – Campus, Europalaan 400, 3526 KS
Utrecht, Netherlands
CoC: 66591880
VAT: NL856622412B01
Bank: NL50RABO 0354 7091 43
Let's get in touch!
If you wish to discuss your project needs, or simply learn more about our solutions, fill the form below. We answer in less than 48 hours.